Weather is now finally cooperating with us and while the temperatures rise expect the fishing to quickly get hot!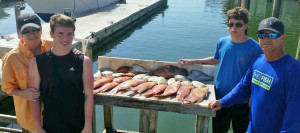 Over the last couple days the Hogfish Bite has been exceptional as expected and many other great tasting table fare have also been fully cooperating with our anglers. We have been getting large numbers of good size Porgies to go with the Hogs. Live shrimp has been the ticket and downsizing your tackle will ensure more action.  Look for live bottom to find their home. For a quick change of pace, offering up a broken Sardine will fire up some good Red Grouper and Catch and Release Gags. A push out to 100 feet will result in regular keeper sized Red Grouper, but the Hogs will not be on the menu.
For the rest of the month expect the Hogfish to be the main target as they are just starting to spawn.
On our trip out yesterday (3/10/15) I noticed some ballyhoo on top. That means the Toothy Pelagics are on the way and should be beginning to show up any day now.
/ Capt. John