Although American Red Snapper season is coming to a close for Recreational Anglers (Closes June 10th), Island Lure is a Federally Permitted Vessel and will be fishing the "Charter Boat" Season which lasts until July 14th. Luckily the 2015 season has been the best in recent history. So far the weather has been 100% Perfect to get out and get far enough offshore to get into the bigger fish. Not to mention this year the bite has been spectacular!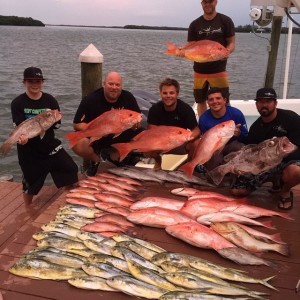 One thing that I've found, and it especially holds true during the summer months, is that the early bird gets the worm. I like to be ready to get my lines in the water before 6 am. Once the sun gets up in the sky, it's not uncommon for the Bite to turn off like someone hit a light switch.
I always tell my customers to wait on the picture because we never really know when the Bite will Stop.
Currently I've been working the 40 Fathom Break (240 Ft) looking for Natural Relief and also for Springs and Cracks. Finding Coral Heads is a bonus. The spots we have been fishing are generally overloaded with Amberjack and Almaco as well. Getting bait below those fish is key. When ARS fishing in these depths I do not fish life bait and prefer dead mackerel and sardines as the Jacks generally do not take to them well. If the jacks become too aggressive, Ill have someone up at the bow cast  a big live Pin forward and let the jacks school around it while we fish the back of the boat. In these depths it's also not uncommon to have to deal with Large Sharks. Sometimes they become aggressive and eat our catch as we are reeling up. The solution for that is to bring some Bonita, Move up off our spot and drop a chum block or three along with pieces of Bonita.
In these depths its also not uncommon to run into nice schooly sized Mahi Mahi, Black Tin Tuna, Wahoo and of course billfish. So if you are gonna make the run 100 miles offshore, the key is to learn from your past mistakes and make sure you plan accordingly, having any type of gear and all types of bait.  // Capt. John