Here are some of the most Frequently Asked Questions and some basic rules for anyone fishing on Island Lure Fishing Charters LLC.
Where Are You Located?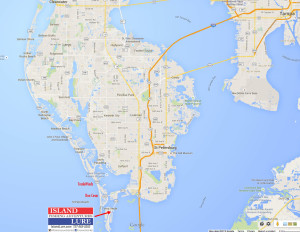 Our Home Port is The New Tierra Verde Marina Resort located in the Tierra Verde Section of St. Pete Beach.
Our Address:
Tierra Verde Resort Marina
200 Madonna Blvd
Tierra Verde, FL  33715
Is Gratuity Included in the price?
Our Captain's and Crew generate 90% of their income on tips. All Gratuity gets split between the Crew. The standard Tip is 20%. Of course if you have horrible service we do not deserve a good tip. AND PLEASE if there is a concern, please bring it to the attention of your Captain or Crew Mate so we can fix an issue before it becomes a problem for you. Your opinion is all that matters to us and we will do whatever it takes to make you happy.
Can I drink Alcohol?
We do allow beer and wine coolers on board. Please Bring Cans and Not Glass.
NO ILLEGAL SUBSTANCES ARE ALLOWED ON BOARD PERIOD! 
What's included in the price?
We provide you with EVERYTHING! Bait, Premium Quality Gear, Photographs, Fishing License and we will clean your catch. Just Bring Your Own Beverages and Snacks, and some Sunscreen. If you have a favorite rod or rig, please inform the Captain a day before your trip so we can accommodate it and make sure it will work for the type of fishing we are doing.

What should I bring on my Trip?
Most importantly bring protective clothing, Sunglasses and Waterproof Sunscreen. The Captain will inform you the day before the trip of expected weather conditions and which type of clothing to bring. Rides out can be cold in the early morning hours and dressing in layers is always your best bet. Bring your favorite Beverages and Its also advisable to bring a sandwich or some snacks.
What Can't I bring on my Trip?
ON DEEP SEA TRIPS = No GPS devices of any kind! No Cell Phones! No iPads, No iPhones, No iPods! No Illegal Drugs! No Bombs, Explosive Devices, Bazookas, Anti Aircraft Artillery, Mines (ground or sea), Depth charges, weapons of mass destruction! NO Weapons or Firearms.
Do I Need a Florida Fishing License for my Charter?
You do not. We will provide you with a license so long as you are on the boat.
Are children allowed?
We sure do on our standard Inshore and Deep Sea Charters. However, on our Xtreme Deep Sea trips  we do Not allow young children or toddlers as these trips are too demanding. We never allow Infants and a legal guardian must accompany anyone under 18.
Any recommendations for Sea Sickness?
We recommend visiting your local Health Food store and Trying some GOOD QUALITY Ginger Root Vitamins.  In our opinion, nothing will beat it. Take some the night before, some right before you board and another every 2 hours.  Canada Dry Brand Ginger-ale also helps.
About Shoes?
Please nothing with Black Soles. Also, we do NOT recommend anyone be barefooted. Its a Great Way to Slip and a surefire way to get a hook in your foot. Crocs and "Boat Shoes" are best. Flip Flops, although not always the best choice are not ideal but acceptable.
About Clothing

Bring as little or as much as you like. Less in the Summer and More in the Winter of course. One thing to remember is you can never pack enough and you can always remove layers if you get too warm. Early morning runs on the water at 40 mph do get chilly and it does get cold on the water December – March. During winter months we also recommend some type of Poncho or rain jacket as we deal with our fair share of fog.
If you have a question that is not answered here, please contact us >
---
Island Lure Fishing Charters of St. Petersburg, FL offers Inshore Fishing Charters as well as Tampa Bay Tarpon Guides and Deep Sea Fishing Charters for the Tampa FL and St. Petersburg FL regions. Conveniently located only 30 minutes from Downtown Tampa in St. Pete Beach FL and Tierra Verde, FL. Join Capt. John Fidi and Capt. Gene Maxwell for a Memorable and Exciting Fishing Trip!
Tampa Bay Flats Fishing Charters  | Tampa Inshore Fishing Charters | Tampa Bay Tarpon Fishing Charters | Deep Sea Fishing Charters St. Pete Beach, FL |